Have you recently ordered a Bike, Bike+, Tread, or Tread+ from Peloton Interactive and now need a good deal on the membership? Now let's get you a discount on your membership too.
You can get a discount on Peloton membership through your job, for example, if you work in the armed services, public sector, or healthcare sectors, are a student, through your healthcare provider, bank or credit card company, and directly from Peloton when they have special offers.
We have managed to gather a plethora of fabulous membership discounts and codes to help you save money with Peloton. Ready to find out more? We thought so!
What Does Your Health Insurance Plan Say?
Some insurance providers such as Blue Cross Blue Shield, UnitedHealthcare may reimburse Peloton customers for equipment and memberships. For example, UnitedHealthcare includes a 1-year Peloton digital membership at no extra cost! That's a saving of $155 per eligible member. However, this is dependent on the type of plan you take out.
Health insurance companies will often encourage customers to increase exercise to reduce their claim rates. We recommend getting in touch with your insurance provider before purchasing to see whether or not they offer this discount.
The Essentials Package: What Is It And How Does It Work?
The Peloton essentials package is available to specific eligible individuals for free, which we have listed further down. This package is worth $200 USD and includes the following:
A pair of lightweights (1 to 3 pounds max.)
Bluetooth headphones
Cycling shoes (with cleats)
You must find out if you are eligible for this discount as this is a saving not to be missed.
Free Essentials Peloton Package: Who Qualifies?
Peloton offers specific individuals a special discount of $200 USD on accessory packages and accessories upon purchasing a Peloton bike but excludes a Bike+, Tread, or Tread+. Keep reading to find out if this applies to you.
Military Members
Whether you are active, retired, or a reservist, members, can scoop this deal if they show evidence such as a military ID.
First Responders
This includes police officers, firefighters, and EMTs.
Emergency Medical Service Provider and Medical Personnel
This offer includes doctors, nurses, respiratory therapists, pharmacists, and even veterinarians and veterinary assistants (recently added).
Educators
Those who teach at a K-12 school or a higher place of education may also take advantage of this discount.
Nutritional Service Provider
You can also benefit from this discount if you provide nutritional services such as diet plans, weight loss plans, or meal prep services. If you are self-employed or run a company, you can provide proof of your business and payslips to claim this deal.
And just an important note to mention. Both new and existing Peloton members can leverage this deal and other promotions ongoing for their hardware and the Peloton digital memberships,
How Do Qualifiers Apply?
You may want to keep in mind the following rules to claim this discount. The purchaser must:
Be working in the industry mentioned above (however, retired military members may also apply).
Provide proof of evidence at checkout
Ask for the discount at the time of purchase. This may be in-store or online (live chat or via telephone).
What Is The Verification Process?
During this process, you will need to provide information to verify your status. You may use the following as proof:
Pay stubs
ID cards (i.e. passport, driver's license)
This offer cannot be used in conjunction with any other Peloton discount code or promo.
Don't panic if this is starting to sound complicated! A member of the Peloton team will be more than happy to guide you through the process. Click here to get started!
What's The Cheapest Peloton Membership Plan?
Their all-access membership comes in at an affordable rate of $39 per month. This includes a membership for the entire household, which you can create separate profiles on for each member. This will give everyone access to the Peloton Bike, Tread, and Peloton App classes.
However, their cheapest subscription offer is the Peloton app membership which does not require you to have any of their hardware and gives you full access to their library of classes which you can access from any of your devices.
Which Peloton Membership Is Best For You?
So, the main reason you have landed on this page is to find a discount for your Peloton membership. To find the right deal for you, we need to look at the different membership offers.
Peloton All-Access Membership
This is the required plan to use if you own a Peloton bike or treadmill. As mentioned earlier, the membership itself provides customers with access to everything, including live and on-demand workouts/classes. Users also gain access to an enhanced metric system that reveals more intricate details of their performance.
The standard cost is usually $39 a month. However, healthcare workers, military personnel, first responders, and educators may be eligible for a membership discount to prove their working status.
If you are a new customer, you can try out the Peloton digital app membership with a free 30-day trial and gain unlimited access to their thousands of classes.
Can I Get a Peloton App Membership Discount?
The following members of the (US) public may be eligible for a discounted membership:
Students
Military personnel includes active duty, reserve, veterans, and retirees
First responders
Educators
Healthcare workers
Restorative and nutritional service providers
Clerical and administrative support
If you are a qualifying student, you will be able to gain access to membership for just $6.99 a month. For the others listed above, the pricing is just $9.99. The cost to a full-paying member is $12.99 a month. So it isn't a huge discount, but every little helps, right?
The great thing about purchasing the Peloton digital membership is that you do not have to buy any Peloton hardware to use and benefit from it. Instead, download the Peloton app, and you'll be on your way to fitness prosperity!
Peloton On Finance
Why pay for something all at once when you don't have to? For example, customers may purchase a bike or tread using finance. This allows users to pay the total amount over an extended period, subject to status.
The application status is straightforward, and you can have a decision in just a few minutes! Flexible finance means that you can pay for the product over 12, 2, 39, or 43 months (depending on the choice of equipment). Starting at $45 a month, using finance is often the most affordable way to purchase large Peloton equipment, and your plan can also include the Peloton App Membership.
Chase Sapphire Credit Card
If you are proud of a Chase Sapphire card, then prepare to unlock exclusive Peloton rewards. But, first, let's look at what the different cards have to offer.
Chase Sapphire Preferred Rewards
Customers can earn a maximum of 25,000 points and up to $60 USD back on any Peloton membership when using a Chase Preferred Rewards card.
Chase Sapphire Reserve Rewards
With Chase Reserve, customers can earn a maximum of 50,000 points when purchasing a Peloton bike or tread. In addition, you may also be eligible to receive up to $120 USD on your membership. Keep reading to find out more about Peloton membership discounts!
Don't miss out on these fantastic offers that are currently available up until June 30, 2022.
Is A Used Peloton Bike Worth It?
Platforms like Facebook (marketplace and groups), eBay, and Peloton BTS are the perfect place to look for a used bike and even accessories/equipment. However, just because it has been used does not necessarily mean it needs throwing in the trash!
I've written a whole article on buying a used Peloton that you can check out here.
A good rule of thumb when purchasing expensive equipment is to read the description thoroughly and pay through a secure platform like PayPal to avoid any scams. Also, don't forget to check whether or not you will need to collect the bike yourself or if the seller is happy to arrange a courier.
Although you can save money on the hardware, the digital membership cannot be resold, so you must do your due diligence before signing up for the subscription offer.
Peloton Promo Discount Referral Code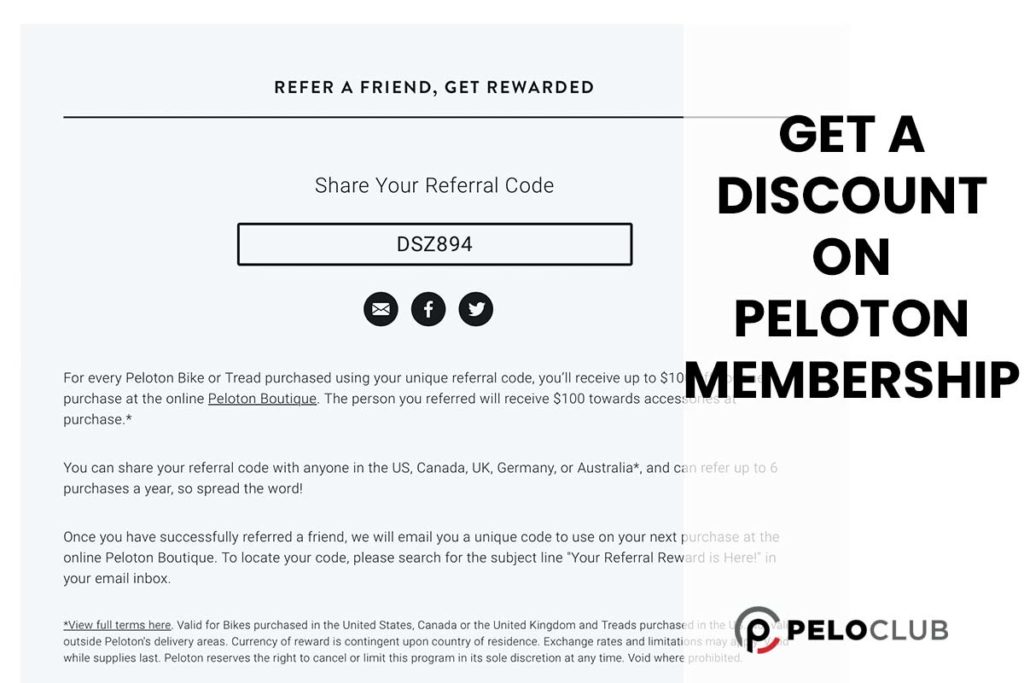 As a Peloton member, you will receive $100 to spend on Peloton accessories for every person you refer. This provides friends or family (or whoever you want to share your code with) with an accessories package worth $100. However, this cannot be used for money off a bike or treadmill.
For full details here's an article I wrote all about this.
How To Find And Share Your Referral Code
Visit the website and log in to your account. You will find the code under your profile. Unfortunately, it is not available via the Peloton digital app, nor can it be found on your bike or tread.
The code can be found under the 'refer a friend section.' You can share this with as many people as you like. The more, the merrier!
More Ways To Find Special Discounts and Promos
Signing up for the Peloton newsletter is a great way to ensure you never miss a special offer or promotion. Just be sure to check your inbox regularly! It is also worth checking the offers and promo section on the website, frequently updated to catch great deals on the Bike, the digital app membership, and accessories.
Social media is another way to keep yourself up to date, mainly interested in a specific piece of equipment or accessory.
What About Student Discount?
Student discount is available via the Peloton app. Want to know more? Here's what you need to do.
Visit Peloton.com and verify your student status. This is done through SheerID using a valid university email address. This will then give you access to special student pricing. Click here to find out more about how to redeem this offer.
Amazon Prime Student
And why stop there? To access cheaper accessories and gym gear, sign up to Amazon Prime Student to shop for thousands of discounted products plus free shipping! At $49 for six months, it's almost too good to be true!
Click here for more fantastic Peloton Bike and Peloton membership coupons and promo codes for students!
Before You Go
There are many ways to cut the cost of your Peloton membership or equipment. You need to search deep! Before you purchase the bike or sign up for the Peloton membership, it's always best to do a little research, as there are always some promo codes going around that can save you money!
We hope this article has helped you and provided you with a discount worth grabbing. Stay tuned for more Peloton news and information that'll cut your costs and make your fitness experience that much more enjoyable!